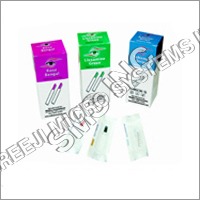 Ophthalmic Diagnostic Strips
Product Description
Our
Ophthalmic Diagnostic Strips
are designed for effectiveness and patient comfort. They are safe and hygienic in nature, and prepared from top quality raw material. Also, these are accessible in well-defined categories for a range of diagnostic use. The Strips are ideal for all types of ophthalmic surgery and procedures. These
Ophthalmic Diagnostic Strips
cover various applications like: diagnose natural tears secretion deficiency; stain degenerated cells, mucus fibrils & dead cell etc.; visualize defects / abrasions on the corneal epithelium, and more. Also, we focus on product and packaging improvements to meet the demanding needs of our clients and their customers.
Ophthalmic Diagnostic Strips Offer:
Safety
Quality
Flexibility
Cost effectiveness
Compliance with national laws & directives
It is available in a container of 100 separately packed sterile strips.