Diagnostic Lens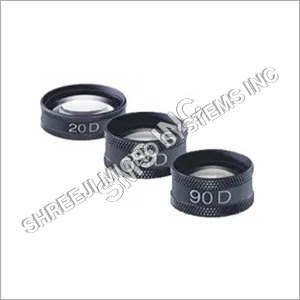 Diagnostic Lens
Price And Quantity
Unit/Units

35.00 - 150.00 USD ($)
Product Description
Diagnostic Lens
Our company offers a wide range of Diagnostic Lens which can be used in ophthalmology for viewing the posterior segment of the eye. It is can be used in conjunction with a slit lamp to facilitate the ophthalmologists to get a binocular observation of the entire eye under unfavourable conditions such as cloudy media or small pupils. Diagnostic Lens availed by us is designed with best quality of optical glasses which provides a clear and magnified vision to get the complete details of the affected areas. It is available in various different sizes and power that can be delivered with an assurance of safe and fast delivery.
Aspherical Lens

CATNo.SMS-20.010,SMS-20.020,SMS-20.030

14D provides high magnification along with an optimized working distance from the cornea, 20D diagnostic/laser lenses is perfectly corrected for field curvature, astigmatic aberrations, 30D is designed to provide the practitioner a wide field of view with a short working distance. more.....

Aspherical Lens

CATNo.SMS-20.040,SMS-20.050,SMS-20.100

60D provides high magnification - making it ideal for detailed disc and macular viewing. 90D lens started the slit lamp examination revolution. With a small 26mm diameter dynamic fundoscopy. 78D is an excellent general diagnostic lens designed for use within the range of motion of all slit lamps. more.....