Sideport Blade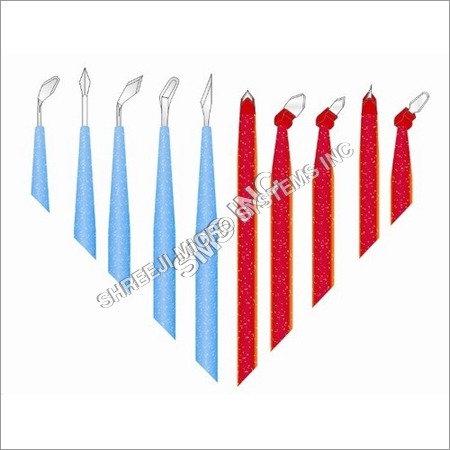 Sideport Blade
Product Description
Keeping Track With The Latest Market Developments, We Are Engaged In Offering An Extensive Range Of Sideport Blade. Manufactured Utilizing Latest Tools And The Best Grade Stainless Steel, The Offered Blades Are Also Subjected To Stringent Quality Tests Under The Supervision Of Our Quality Controllers. The Offered Blades Are Widely Used In Hospitals, Clinics And Other Related Places For Performing Various Surgical Activities. Our Offered Sideport Blade Can Be Availed In Variety Of Sizes And Designs At Economical Prices.
Features:
Fine Grip
User-Friendly Design
Immaculate Finish
Excellent Durability
Ophthalmic Micro Surgical Blades
Keratome Blades : 1.5mm,2.0mm,2.2mm,2.5mm,2.8mm,3.0mm,3.2mm,3.5mm Full Handled Knives With Angled/St.
Crescent Blades: 2.5mm,3.0mm,Full Handled Knives With St/Angled.
Lance Tip Blades:15.0d,30.0d,22.5d,45.0d,Full Handled knives
Mvr Blade: 19.0g,20.0g,24.0g,Full Handled Knives,St/Angled.
Clear Corneal Blade : 2.2mm, 2.5mm,2.75mm,2.85mm,3.2mm Full Handled Knives With Bi Bevel Up /Down.
Implant Blade:4.0mm,4.5mm,5.0mm,5.2mm Full Handled Knives,St/Angled.
Miniature Blade:They Will All Types Shape Of Blades.
Contral Depth Slider 300,400,500 Micron With Fixations As Per Applicable.
Glucoma Knives: 0.1mm,0.2mm,0.3mm,0.4mm,0.5mm Full Handled Knives.
I-Slider -KERATOME: 2.5mm,2.8mm,3.0mm,3.2mm,3.5mm
I-Slider- Lance : 15-Degree,30.0degree
I-Slider - Crescent : 2.6mm With Fixations
I-Slider - Iol Impalant : 5.2mm With Fixations
I-Slider Blades Will Very Compacked & Highly Sandvik Still Used,They Will All Handled 45'D Angulation,Only Tips With Fixations Outer Sizes As Per Applicable.